Regular price
Sale price
$19.99 USD
Unit price
per
Sale
Sold out
Share

The 1872 Seated Liberty dollar claims a series-high mintage of 1,105,500 pieces, but the issue is more difficult to locate than that large production total would indicate. The coins were all paid out to depositors who brought silver bullion to the Mint, but a number of coins surfaced in the Treasury releases of the early 1960s. Rumors of a full bag of Uncirculated 1872 silver dollars being released in the 1962-1964 period are unconfirmed, but a significant number of coins did come on the market from the Treasury hoard during that era. It seems likely that some of the original depositors returned their holdings to the Treasury Department after the intrinsic value of a silver dollar fell below its face value in 1873, rather than spending them in commerce. However, the consignor's family acquired the present piece long before the Treasury hoard was released.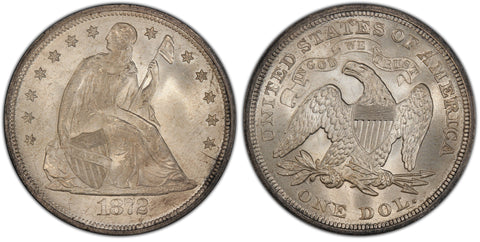 View full details
They're a nice addition to my coin collection.
1872 dollar
I like the dollar, it came quickly and in great shape. I intend to order other coins sooon. Thank you.
Great purchase and fast delivery
*Fine Crafts With Collectible Value